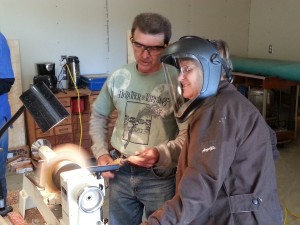 A big thank you to all who attended the demonstration Saturday, November 9th at the Library Center and the "hands-on" workshop at the Good Samaritan Boys Ranch Sunday and Monday, November 10th and 11th.
Our guest turner was Rudy Lopez from Tampa, Florida.  He proved to be an excellent turner and teacher, plus he was very entertaining.  He's only been turning for 6 years but has a great eye and creates beautiful pieces.   At the demo, he showed us how to turn a very thin winged bowl, a square-to-round vase, and an oblong bowl.  At the hands-on sessions, we all turned winged bowls and for some, time permitting, we turned the vase.

I think everyone will agree…we want him to come back again next year.  If you weren't able to attend, you missed out.  So, if he comes back, please plan to attend!
See you at the next meeting!
Helen Beeman