Saturday February 22nd we were pleased to present Doug Thompson from Thompson Lathe Tools as our demonstrator.  Doug did a great job of teaching us not just about putting an edge on our bowl gouges and scrapers but he also shared his knowledge of the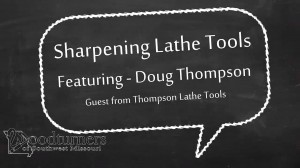 various kinds of steel used in making woodturning tools.  He also discussed the different kinds of grinding wheels, grinders, honing, angles for various tools and more. He taught us how he uses the Wolverine Grinding System.  Remember, it can be purchased directly from a couple of our existing club sponsors.  Craft Supplies USA and Hartiville Tools both carry the Wolverine and all of the accessories available.
We at one point had 86 folks in the room watching him creating the first grind on a bowl gouge and creating the edge on a negative rake scraper.  The Video Team did a great job of capturing the day and that video is now out and available on our YouTube Channel or you can also watch it right here on our site at:  http://www.youtube.com/watch?v=ZOc6giDP39A&feature=youtu.be
Along with Doug's demo we had our Club Challenge for the month of February.  Our Novice Table winner was Natalie Pyeatt with a bowl that had "belly button rings" indexed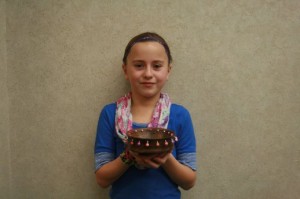 around the rim for a very Sweetheart type look.  The Experience Table Challenge winner was Larry Ludke with a Roman Canteen.
Be sure to visit Doug Thompson's website and review all of the tools and handles he has available for sale.  He has been a club sponsor for 3 years now and has donated many tools and handles to our club for our Raffle and Prizes.  We need to make sure we support those that support us.
Coffee shops have been scheduled for March 1st and 16th.  More information on these will be sent out via email.