Our regular club meeting this month will be held on September 22nd, at Wesley United Methodist Church at 922 West Republic Road Springfield, MO.  This is just a few short blocks west of South Campbell on Republic Road.
We will set up just like we normally do with our Show and Tell,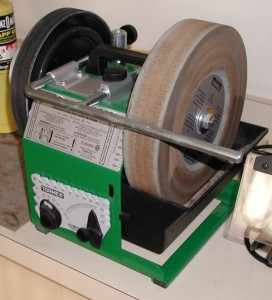 Club Challenge, etc. Remember this month's Club Challenge is to turn an Urn.  Our demonstration this month will be on Sharpening your tools.
Bob Bezanson and Ernie Lorenc will be sharing this demo time.  Our Vice President will be teaching us how he labels his tools and sharpens with a slow speed grinder.  This particular example being the Tormek.  He will focus on several different tools in the woodturners arsenal.  Dr. Lorenc will share with us his methods of sharpening "on the cheap."  He will educate us on the sharpening of a bowl gouge with the Ellsworth jig.  Ernie will also share how he hones his heavy scraper.
Both of these gents have been turning for many many years.  No one is exactly certain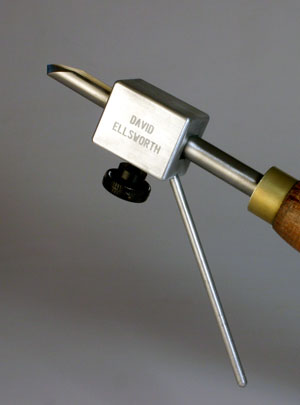 how long the good Doctor has been turning but it is thought that he was present when steel was forged for the first time into a bowl gouge.  But that is just a rumor.
This is going to be a great demonstration for the new and experienced turner!
We have a great opportunity this month for the newer turners.  One of our Board Members – Ben Alexander, who is a fairly new turner himself, has put together a fantastic new program.  AFTER LUNCH on the 22nd, Ben will be leading a class on turning. It is not just geared to the brand new turner but to anyone who has been turning less than a couple of years.
Woodturning has so many facets that it is impossible even for the most experienced turners to "know it all."  Ben is going to lead a class that will attempt to introduce you to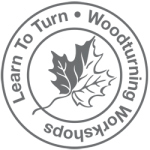 the basics of turning.  This class is sure to help to fill "the gaps" in your understanding of of working at the lathe.  Comprehensive would be a great description of this course.  If you are starving for information, this is going to be a great afternoon for you!  Ben estimates that this will be between 1 1/2 – 2 hours.  I believe that when you walk out of this session you will be 12 months ahead of researching woodturning on your own.
Introduction to Woodturning
A beginners overview taught by a beginner

1. Meeting your lathe and it's parts, & how to hold wood on your lathe
2. Meeting basic turning tools and equipment you will need
3. Brief introduction to Safety, how to keep turning without stitches
4. Wood toxicity, or please don't eat the wood
5. Where do bowls & stuff come from? Log orientation
6. Turning green and drying your turnings
7. Sanding & finishing techniques
8. How your attitude effects your turning, having a positive approach
9. The AAW, what is it and why do I want to join?
We will start to gather at 9:30 am and go until approximately 12:15.  Remember that the "Introduction to Woodturning" class will be after lunch
Looking forward to seeing you there!!!
922 West Republic Road Springfield, MO