Our October 27th meeting will be at the Library Center at 4535 S. Campbell.  As always we will start to gather at 9:30am and the official meeting will begin promptly at 10am. This month we will discuss upcoming events and some of our schedule for next year. Then our guest for this month, Jim Vander Lind will demonstrate for us (more below).  As we normally do, we'll have our Show and Tell, Club Challenge, Club Coop, Raffle and Library available.  Visitors are ALWAYS welcome!
For the last several years, Jim Vander Lind has been coming to Springfield in May for ArtsFest.  We will him as our special guest turner for our October 27th Meeting.  For anyone that has been to his tent during ArtsFest, they will attest to the beauty of his turnings.
Jim will do two different demo's for us.  He will demo in the morning and show us how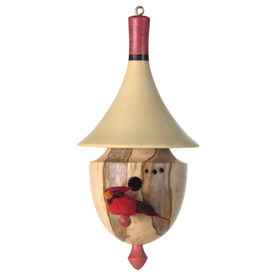 he turns "birdhouse ornaments."  The picture to the left is one that is very similar to his style borrowed from the Craft Supply USA website. This demo will be a project that everyone will be able to turn at home regardless of your turning experience.  We will also have some blanks available in the club coop ready to take home and turn into your own birdhouse ornament!
His demo in the afternoon will be all about how to turn and use dyes to enhance your turnings. The picture below will give you some idea of what to expect from Jim's Demo.  We will have him as our regularly scheduled demonstration for the birdhouse demonstration in the morning meeting.  Then after lunch Jim will come back and do a full in depth demonstration of his techniques used in producing this type of turning.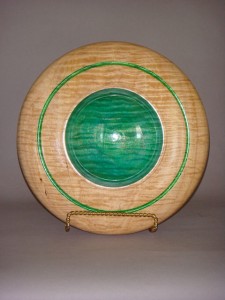 There is no additional charge for the afternoon session so, be sure to hang around and learn all about aniline dyes and how to apply them.
Check out his website at http://www.jimvanderlind.com/
There you can read his bio and look at some great turnings!