Hello again, fellow woodturners!  I'm excited to talk to you today about Jim Johnston.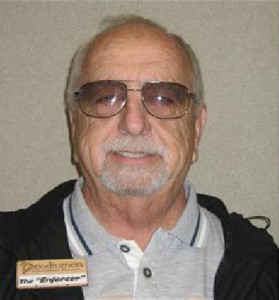 Also known as "The Sheriff"!  Most of you know him, but some of the newer members don't.  Why do we call him "The Sheriff"?  Well, two reasons… first because he was a Deputy Sheriff at one time and second, but most important, he collects money from members who 1) forget their name tag and 2) forget to turn off their phones during the meeting.
I have personally known Jim and his wife of 24 years, Marge, for over 20 years.  In fact, Jim is the guy who got me interested in woodturning.  He is an excellent turner who focuses mainly on tool handles, bowls and small items.  Additionally, Jim helped me turn my first bowl.  He's a great teacher and very patient!  The reason he began turning was so he could make file handles.  Jim  has been turning about 11 years.
What you may not know about Jim and Marge is that they are excellent skeet and sporting clay shooters.  In addition, Jim loves to fish, garden and travel.  He has two children,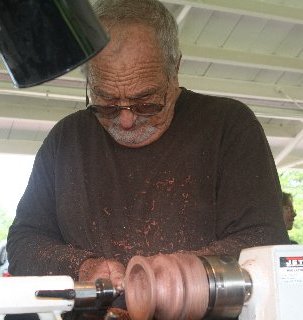 Jason, 43, and Jennifer, 35.  According to Jim, he met Marge after she asked him to dance.  (I want to hear more about that story!)  They live in Oldfield, Missouri.
In Jim's words: "I am the luckiest man alive as I have a wife that loves me, two fine children and the best people on the planet that I am fortunate to be able to call my friends!"
Let me say one last thing about Jim, don't ever take him too seriously.  He loves to prank people.  So, if he tells you something with a really straight face… you probably shouldn't believe him!  (I'm laughing!)
Helen Beeman