On Thursday, January 17th, Helen got her new 1.5 HP Jet 1642 lathe! So we had a lathe raising party!
Larry Randolph, Larry Ludke, David Van Giesen, Ben Alexander, Helen and Dan worked together to set the lathe up in her basement shop. Well, Larry Randolph mostly supervised but we needed that. It took about half an hour to set the lathe up and get it running. A small problem with a ground fault circuit slowed us down a bit.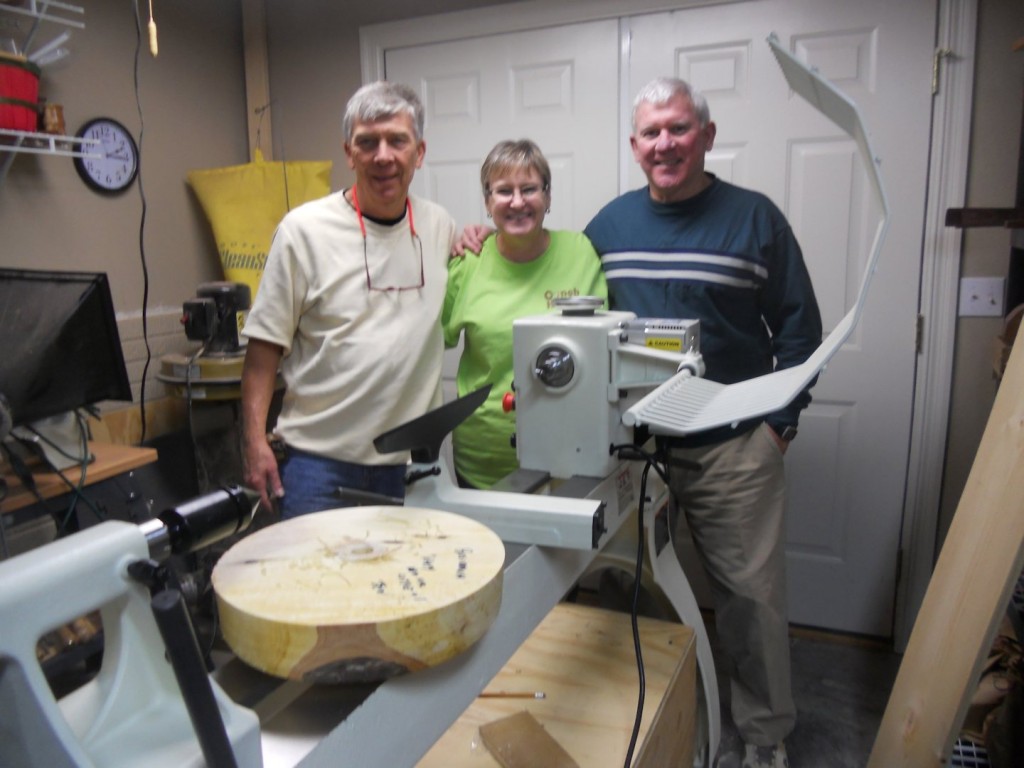 After a few minutes searching we found a regular circuit and the lathe operated as expected. Helen and Dan then suggested that we go out to lunch "on them" as a thank you for helping set it up. Didn't need to twist any arms and off we went to the Neighborhood Pizza, located at 3550 N Hwy H (north Glenstone). They sure have great pizzas!
After lunch Larry R & David VG had other plans and took off. Ben & Larry Ludke went back to Helen's and built a "weight box" between the legs of the base. The box is 17″ x 48″ by 14″ high. The box holds 12 concrete block "cap" blocks and adds about 400 pounds to the lathe. This will help hold it steady when roughing out blanks. It went quickly except for Ben having trouble with his measuring tape (darn thing was off an inch for a while!).
Now Helen is ready to go! Well, except she realized she has no chuck adapter which would allow her to put her chuck on the 1 1/4 x 8 tpi spindle on the new lathe. I'm sure that issue will be resolved soon! Helen purchased her lathe from Ballew Tools on S. Kimbrough in Springfield.
Congratulations on your new lathe Helen, enjoy!
Remember, any club member who wants help setting up your new lathe just contact Ben, David, or Larry.
Written by:  Ben Alexander