Our regular monthly meeting will be February 23rd at the Library Center at 4653 S. Campbell.  As we always do, we'll start to gather at 9:30am and get the official meeting started at 10am.
This month's demonstration is going to be done by Tim Yoder from Tulsa, OK.  He is planning to do our regular demo (1 complete project) during the morning session.  Then in the afternoon, he will come back and do 2 more projects after lunch.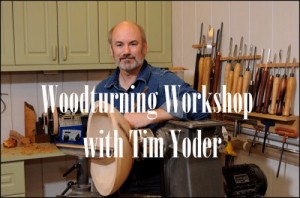 For those who may not know, Tim Yoder did 65 different episodes on PBS Nationally. The show was called "Woodturning Workshop." Tim is very active in the Tulsa AAW Chapter and is responsible for their video system.
Recently, Tim has been doing short videos for woodturningonline.com.  You can view those videos and several others  that he has posted on YouTube by clicking THIS link!
Our own club video library has several of Tim's videos in it so, for those of you that have borrowed those, you are sure to want to see him in person.  It is bound to be a great demo day!!!
Our Club Challenge is to turn something for your Sweetheart!  
Need we say more? February is the month for Valentine's so, in order to get the most votes from your peers, plan to turn something that your Sweetheart might like to receive on the 14th!
We will have both the Novice and Experienced tables for you to place your turnings.
Check out a couple of Tim's tip video's here.