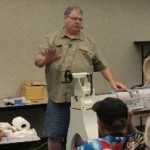 Les Casteel did a fantastic job of demonstrating for us "Coloring, Finishing & Buffing." His presentation with his PowerPoint slides gave us a LOT of great detailed information! The Les Casteel "7 Rules of Sanding" was a good discussion about the proper use of sand paper.
The portion of his demo pertaining to dyes was very interesting in how he explained the history and types of dyes available. Setting was of particular interest to many of us and his explanation of this was very well communicated. Then he put a piece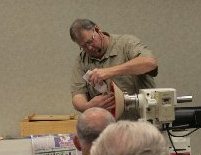 on the lathe and walked us through his process of applying aniline dyes and how to blend them together if a single color was not what you wanted.
He broke down for us the various types of finishes (Water Based, Waxes, Oils, Paints, Oil Based Varnishes and Lacquers). Where they come from, how they are mixed and finally how they should be applied from the woodturners perspective. Les shared a lot of pictures of his shop and how he finishes his pieces.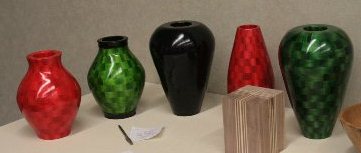 The final portion of his demo was talking about buffing. He showed us the Beall Buffing system and how he has modified it for his larger pieces. This involved a longer steel rod allowing the buffing wheels to work farther apart which gave a little wider access when buffing bigger items. Along with the Beall system he also uses a set of Milwaukee drills and buffing wheels for his more difficult to buff pieces.
It was obvious he has had a lot of influences in his woodworking career as he was very open and obviously appreciative of those that have mentored him along the way. (e.g. Sam Maloof, Ed Moulthrop and others)  There were many of his techniques and processes that he attributed to these folks all through his demonstration.  Great demo Les!

For those that aren't aware, our own Les Casteel is going to be one of the Regional Demonstrators at SWAT (Southwest Association of Turners) which is a great symposium August 23 – 25.   Les will be demonstrating his, "Speed Techniques for Segmented Turning" in the rotation schedule.  This is the same demo he did for us last year where he demystified many of the things involved with segmented turning.  I am certain that those at SWAT will be as appreciative of his willingness to share the information and techniques he has developed over the years.
Les welcomes your questions and comments.  You can connect with him through his website at WoodthatRocks.com  You can also view his Presentation Slides below or click on the link in the lower left to Download it as a PDF for viewing on your own computer.
– Larry Randolph 
GDE Error: Unable to load profile settings