Saturday, March 1st several of us met at Brian Woosley's (one of our newest members) shop and had a great time getting to know each other a little better and there was a lot of sharing of information on turning.   Brian's shop was the perfect place for a Coffee Shop. He said, in the future if we want we can move his lathe into the larger garage which is just a matter of opening the door and pushing it through.  I do believe we could easily get 20 or more folks in there. Regardless, I was very envious of the space he has and how his shop is setup.
Helen Beeman demonstrated turning a pen on Brian's lathe.  She took us from the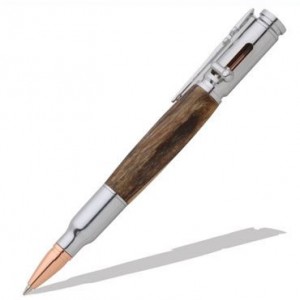 beginning of picking, cutting and drilling the blank to mounting it on the lathe and turning it to it's finished shape.  She then proceeded to teach us her finishing techniques which included applying first a thin CA to fill any pores in the wood.  Then she added 5 more layers of medium CA before she did her final sanding and polishing.  Once she had completed the blank she went on to assemble a Bolt Action Pen.
The CA glue that Helen used can be purchased from one of our "Club Sponsors" Woodnwhimsies. They are distributors for and carry the StickFast brand which is the originator of the "Woodfinishing CA System".  The Bolt Action Pen that Helen assembled also came from Tim and Tracey, owners of Woodnwhimsies.  They are also club members so be sure to check out their website!  They have 'pertneart' anything you might need for pens and other kit based projects.  Say "thank you" when you call them.
The video below was shot from my Samsung phone and the audio was kinda hard to hear over the lathe so, I added some Ozarks Classical music for your listening enjoyment ha!

After Helen was done, I shared some brief information on bottle stoppers and demonstrated Mylands Sanding Sealer and Friction Polish.  Then Helen used the CA Woodfinish she used on the pen blank on one of the bottle stoppers.  It looked fantabulous!  Sorry no good pictures of either of the stoppers.  I was really impressed with the depth that the CA brought to the Spalted Hackberry, it was incredible.  Here are some of the links to the bottle stopper information I shared.
Another "Club Sponsor" is Craft Supplies USA.  There you can find the Dowels for Silicone Stoppers in a 5 pack and the Silicone to cover the dowel in a 5 pack.  Always say thank you to our Sponsors of our club!!!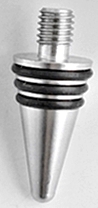 Ruth Niles stainless steel bottle stoppers, the #301 I demonstrated and the self tapping mandrel.  Visit Ruth @ http://nilesbottlestoppers.com/
Mylands Sanding Sealer or Friction Polish:  Woodnwhimsies
Remember, the next Coffee Shop will be at Tom Glynn's show where he and David Van Giesen will demonstrate.  Tom will be cutting out the bowl blank and David will turn it.  This Coffee Shop is designed for those who have never turned a bowl or those wanting a refresher demonstration. Also, Tom will have some great deals on bowl blanks the day of the Coffee Shop.  Email Larry or David if you would like to sign up for this demo. Seats are limited.
-Larry Randolph