Library Center, 4535 South Campbell
Well, the Ozark Empire Fair is over and was a great success for the Woodturners of SW MO.  Our meeting this month is sure to be a great one.  It is certain that we will see visitors from the Fair.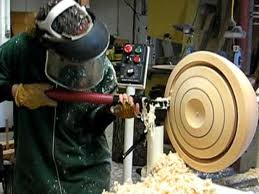 This month our club challenge is a "Scoop."  So, if you haven't turned one yet, you still have time to get one done!
Our demo this month is going to be done by our club secretary David Van Giesen.  He will show us how he uses his McNaughton Bowl Coring system.  This demo will explain how to make several bowl blanks out of one larger blank so, come on out and get a new perspective on turning.
9:30am Setup and Coffee
10:00am Business Meeting
10:30am Bowl Coring, David Van Giesen
11:15am Show and Tell, Raffle, Co-op
12:00pm LUNCH!