Our February 24th Meeting
Our second meeting of the year will be at the Springfield Art Museum at 1111 E Brookside Dr, Springfield, MO.  We'll be featuring the favorite demonstration for the last 3 years.  Tips, Tricks and Jigs!  It's true… this has been the absolute favorite by the majority of our members of which many participate.
So, we'll be bringing in all kinds of Tips and Tricks to share along with a potpourri of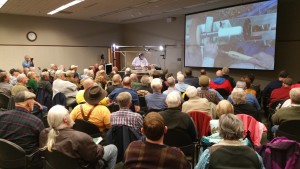 Homemade Jigs and Tools created by our members.  It's always a great Q&A time as well.  This is always informative and entertaining for the person who is considering becoming a turner as well as the most experienced veteran.
If you haven't yet visited our club, we'd love to have you come and see what we are all about.  Always check this website for upcoming meeting information.
We start getting together at 9 am in the Community Room at the Art Museum for Coffee and Treats.  Then we move to the Auditorium and start our meeting promptly at 10 am.
Our club has a great selection of DVD's and books in our library.  As a member of our club, you can participate in our Mentoring Program.
We have a great time and offer a lot of opportunities to learn turning and build relationships.