November 26th Monthly Meeting
Our next regular meeting will be Saturday November 26th and we'll be meeting at the Library Center at 4653 S Campbell Ave, Springfield, MO 65810.  
This month's demonstration will be by Anthony Harris of Kansas City will be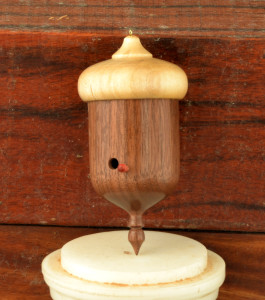 demonstrating how he turns "birdhouse ornaments."  Anthony has demonstrated for us a few times before and always does a great job of teaching how he uses his tools and his unique perspective on the project at hand.  Along with his "rules of turning" you are likely to get a chuckle as his sense of humor shines through every time!  This is sure to be one you don't want to miss as a birdhouse ornament would make a wonderful Christmas gift.
As always, we'll start to gather at 9:30 am and get the official meeting started at 10 am.
Be sure to bring back any items that you have borrowed from the Library and be prepared for a great raffle with some nice items as well as plenty of wood in the club Co-op.